Kerala Water Authority (KWA) is the major water supply provider in Kerala state. For paying KWA water bills online, a consumer should register on the KWA website- https://epay.kwa.kerala.gov.in  before making the KWA bill payment, because there is no quick pay facility without registration has been introduced yet. Consumers of Kerala water authority can view their latest water bill online without registering on the KWA website.
KWA Bill View – Procedure to view Kerala water authority bill online
Follow the below link to go to the KWA bill view form of the Kerala Water authority e-services website.
Go to KWA e-services website – eservices.kwa.kerala.gov.in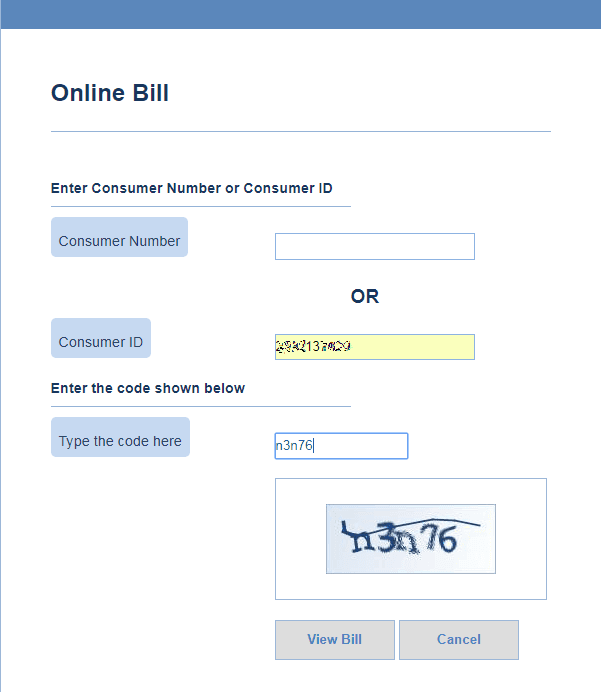 On the KWA bill view form, for viewing the KWA water bill, you should enter your consumer number or consumer id. If you don't know these details, refer to any of your old paper bills. Both the details are there. After filling up your KWA consumer number or consumer id, fill up the captcha text shown in the image also. After entering all the details, click View Bill to view your KWA latest water bill.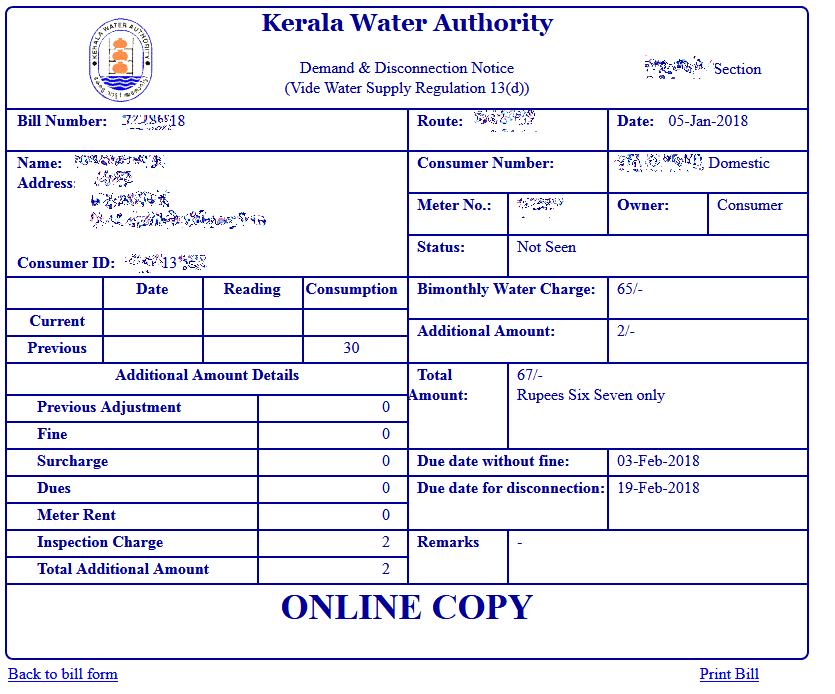 You can take a printout of your KWA bill if you want from here. For this, click Print Bill. To go back to the previous screen, click Back to bill form.
Downloading KWA Water Bill in PDF format
For downloading the KWA water bill, click Print Bill. A new window will appear.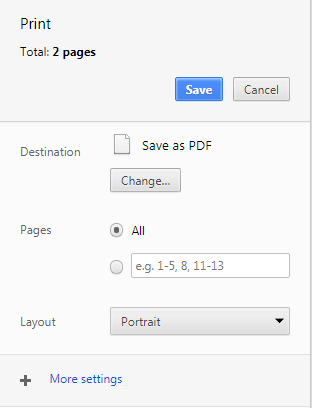 In the new window, click on the Change button to change your print destination. Select Save as PDF as your destination and click Save.
Your KWA water bill be downloaded to your computer in PDF format
Note: Downloading in PDF will work only if you are using the Google Chrome browser. If you are using a browser other than Google Chrome, you have to download your KWA water bill in HTML format. For this, you have to select Save As from browser "File"  menu to save your Kerala Water Authority water bill in HTML format.
How to pay my Kerala Water Authority bill online without logging in?
KWA has introduced a quick pay feature on their website. It is for paying KWA bills online without registering an account and without logging in to your account. You can read detailed instructions to pay the Kerala water bill without signing in here.
How to register an account and pay my KWA bill online?
Instead of using "quick pay" for paying your Kerala water authority bill, you can do the bill payment by logging in to your KWA account. For this, if you don't have an account, you need to register one first. After signing up, you can log in to your KWA account and make the payment easily.
How to find my KWA consumer Number and Consumer ID if I don't have a printed bill?
You will need your consumer number and consumer ID every time you pay your bill or report a complaint to the water authority. Those details will be there on the printed bill. If you don't have a paper bill, you can find those details using your mobile number.