There is more than one way to pay your Uttar Pradesh electricity bill. You can pay your electricity bill either online using the official website or other third party websites or by paying cash directly at the cash counter. Whichever method you choose to pay the bill, you can check the UPPCL bill status online easily.  There is no need to register or log in to your account on any website to check the bill payment status. Knowing your bill payment status is necessary to avoid paying the bill more than once accidentally.
If you go through the official website of  Uttar Pradesh Power Corporation Limited – https://www.uppclonline.com, you won't find anything like "Check UPPCL bill payment status" there. But you can find the payment status of your bill using a way that already exists for some other purpose. By using this method, in addition to checking the status of your UP electricity bill, you can view and download your bill also.
UPPCL Bill Online Status Check – How to know the bill payment status?
Follow the below link to visit UPPCL official website to check the status.

You will reach the online bill payment page.
Type your UPPCL account number
Type the code in the image
Click View

On the next page, you can see the details of your last bill. Details available are,
Name
Account number
Bill due date
Bill amount
Payable amount
Check whether the payable amount is zero or not. If the payable amount is zero, the status of your bill is Paid. If it is not zero, the status is Unpaid.
UPPCL Bill View Online – How to download and print duplicate bill PDF?
For viewing your UPPCL electricity bill online, click on the View Bill button. You can see your electricity bill in a new tab/new window. You can download it if you want from there.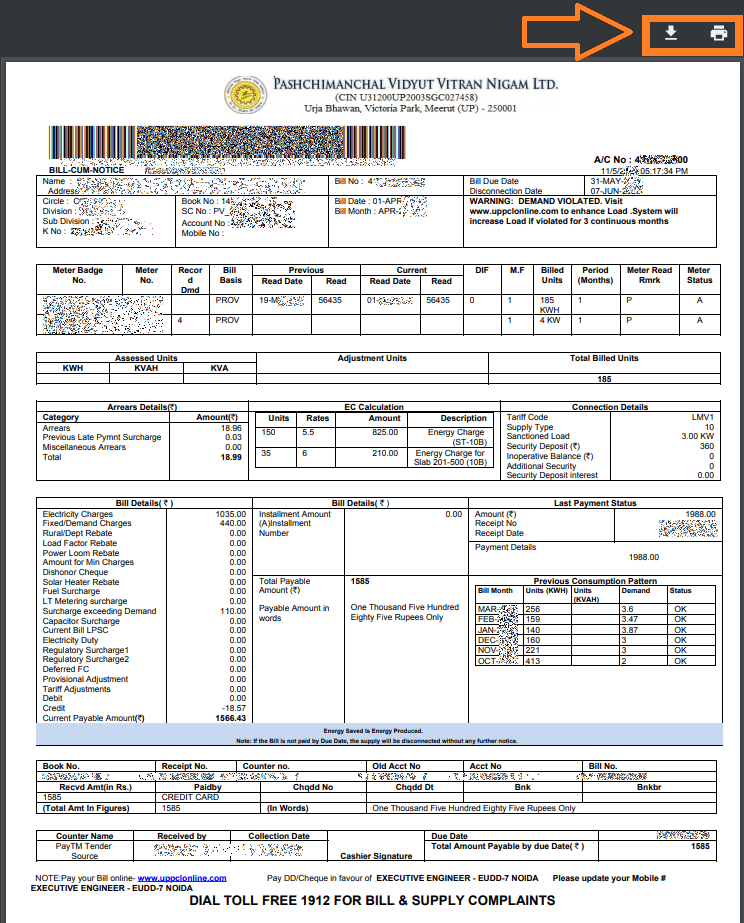 How to download UPPCL duplicate electricity bill as PDF document
Please refer to the above screenshot. You can see two buttons on the top side of the image. Those buttons are the Download and Print buttons. To download your electricity bill to your computer/mobile device, click on the Download button.