This is a step by step guide to do JVVNL Quick Pay. Rajasthan – Jaipur Discom electricity bill online payment without logging in using the Billdesk payment gateway.
Jaipur Vidyut Vitran Nigam Limited (JVVNL)  is one of the major providers of electricity in the Rajasthan state. They provide their service in 12 districts of Rajasthan. They are  Jaipur, Kota, Bundi, Baran, Tonk, Karauli, Jhalawar, Sawaimadhopur Dausa, Alwar, Bharatpur, and Dholpur. Consumers of JVVNL can pay their electricity bills offline by paying cash in counters and pay online using JVVNL Online Bill Payment.
JVVNL Quick Pay – Online Bill Payment Without Logging In
If you know your sub division code and account number, Quick pay is the easiest method to pay the JVVNL electricity bill online. You can pay your Jaipur electricity bill without logging in using the official website of Jaipur Discom.
Follow the below link to visit the JVVNL bill payment page on the Jaipur Discom website.
Visit the JVVNL Quick Pay page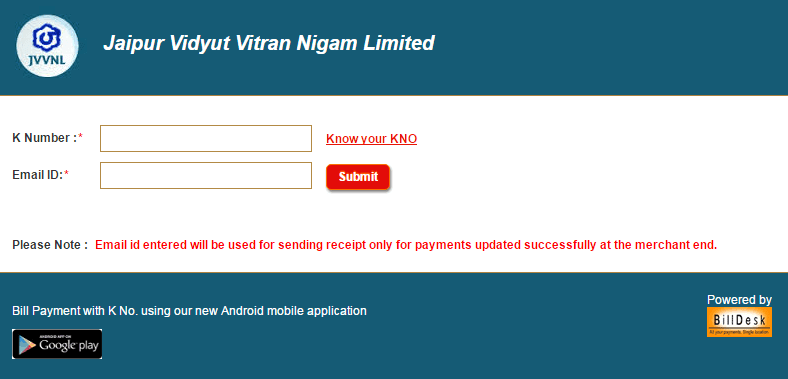 On the bill payment page, fill up your K- Number, e-mail address, and click Submit.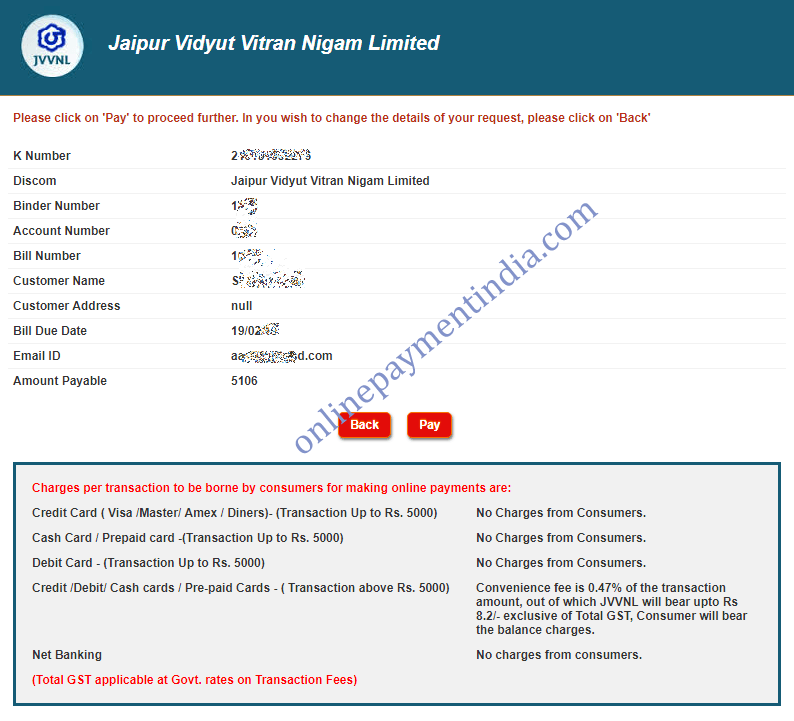 On the next page, you can see your payable amount, bill date, etc. To continue with JVVNL bill payment, click Pay.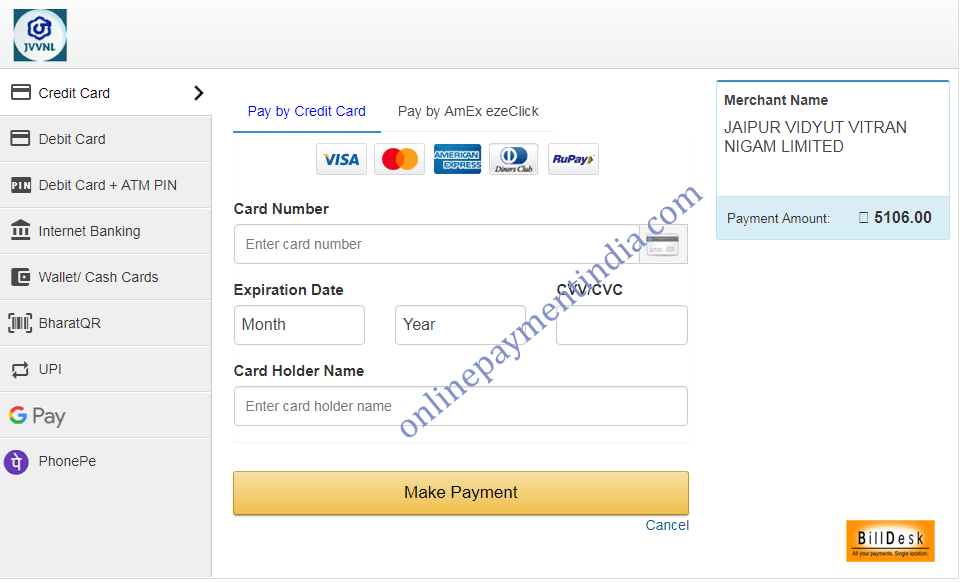 You will be redirected to the "Billdesk" payment gateway. You can select your payment method here. Almost every payment method including Internet banking, credit/debit cards, online wallets, UPI, etc. are available in Billdesk.
To continue with JVVNL bill payment, select one payment method, and click Make Payment.
You will be redirected to the payment page of the payment method you have selected. Finalize the transaction there. After the successful completion of Jaipur electricity bill payment, a success message will appear on the screen and a confirmation e-mail will be delivered to your e-mail address.
Payment methods and charges for JVVNL Quick Pay
Internet Banking: No Charges
Credit Card – Transaction Upto Rs.5000: No Charges
Cash Card / Prepaid card – Transaction Upto Rs.5000 : No Charges
Debit Card – Transaction Upto Rs.5000: No Charges
Credit /Debit/ Cash cards / Prepaid Cards – Transaction above Rs.5000: Convenience fee is 0.47% of the transaction amount, out of which JVVNL will bear up to Rs 8.2/- exclusive of Total GST, Consumer will bear the balance charges.
JVVNL Customer Care Details
Phone: 0141-5105097
Email: jaipurops@billdesk.com