Paid your Kanpur electricity bill and forgot to download your KESCO bill payment receipt? No problem. You can download your Kanpur electricity bill receipt at any time from the web self-service website of Kanpur Electricity Supply Corporation – www.kesco.co.in without logging in. The only problem is if you do not have an account on the website and you are doing this without logging in, you can view/download only one receipt, that is, only the most recent one from the KESCO website. So if you want to download your KESCO bill payment receipt, you should download it before making another payment.
How to View and Download KESCO Bill Payment Receipt PDF Through www.kesco.co.in
You can download your Kanpur Electricity bill payment receipt as a PDF file from the KESCO website using the quick bill payment page itself. The only thing you need to do is your consumer number. You can go to the bill payment page using the following link.
Go to the KESCO bill payment page to view the receipt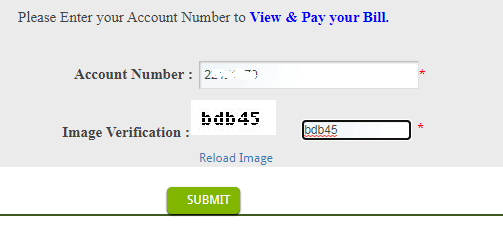 Type your account number, fill up the text on the image to verify, then click the Submit button.

You can now see the details of your last bill and the details of the last payment you made. To view the receipt of the last payment, click on the View Receipt link.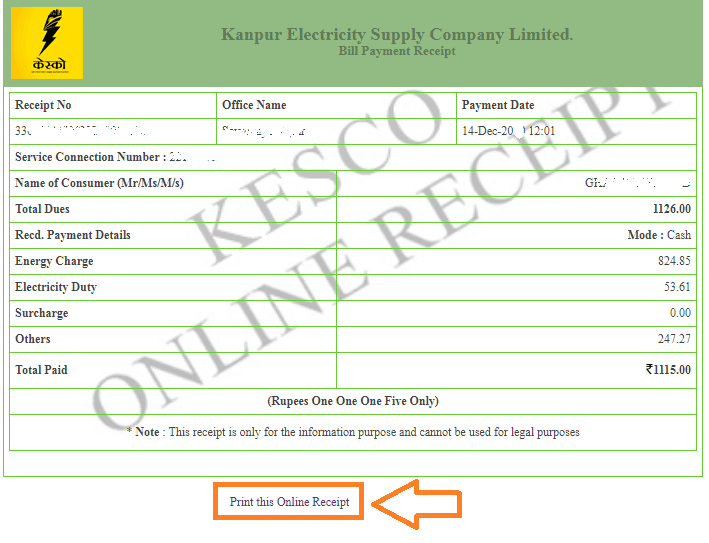 It will pop up another browser window with the last bill payment receipt.
Printing the Receipt Directly
If a printer is connected to your computer, you can print your receipt from the newly popped-up window itself. To make a hard copy of your receipt, click on the Print This Online Receipt link or click the right button of the mouse somewhere on the receipt window and click Print.
Downloading KESCO Online Bill Receipt as PDF Document
Instead of printing your receipt, you can download it as a PDF document. If you need a printout in the future, you can take a printout from the PDF document. To download your Kanpur Electricity bill receipt, click the Print This Online Receipt link.
It will open another window with some more options. Select the destination as Save as PDF and click the Save button. Your receipt will be downloaded to your computer as a PDF document.
How to Pay Kanpur Electricity Bill Online?
You can view and pay your KESCO bill through the official web self-service portal of Kanpur Electricity supply Corporation without logging in using your account number. For a detailed guide, click here: How to view & pay your Kanpur electricity bill online?