APDCL – Assam Power Distribution Company Limited is a government-owned company formed in the year 2009. It is a subsidiary company of the Assam State Electricity Board (ASEB). There are three subsidiary companies under ASEB. Among the three, APDCL handles the distribution of electricity throughout the state of Assam. You can do the APDCL online bill payment using the official website – www.apdcl.gov.in without registering and logging in using the Quick Pay – Instant Bill Payment facility.
APDCL Quick Pay Without Registration and Login
There is no need to register at www.apdcl.gov.in for making the payment using the quick pay facility. The payment procedure is too simple, any person with some knowledge of using the internet can do the bill payment in minutes without any confusion.
Steps for ASEB Electricity Bill Payment – Instant Bill Payment
Follow the below link to visit the ASEB Online Bill Payment page of the Assam Power Distribution Company Limited website –  www.apdcl.gov.in.
Visit the APDCL Quick Bill Payment Page
On the Quick Pay- Instant Bill Payment page of the APDCL website, fill up your APDCL 12-digit consumer number and click Next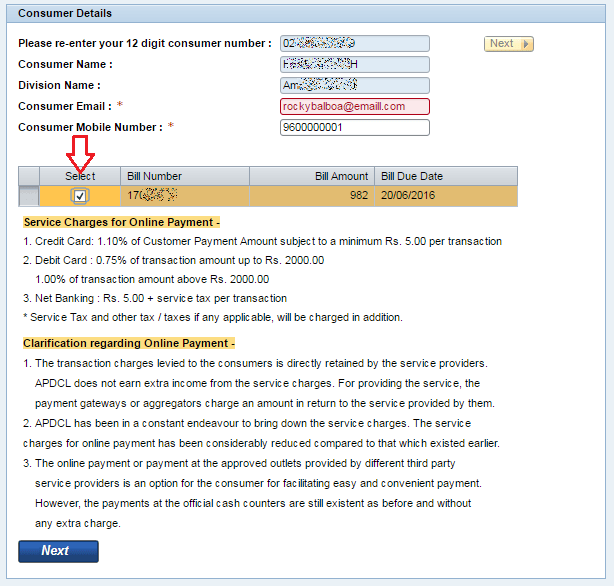 You can see your details such as APDCL 12-digit consumer number, Name, Division name, payable bill amount, bill number, and bill due date on the next page.
To continue with the bill payment,
Fill up your e-mail address.
Fill up your mobile number.
check the checkbox on the left side of your bill number.
Click Next.
After clicking the Next button, you should click on the same button once again to continue. But this time, the text on the button will be " Pay ". It will redirect you to the Billdesk payment gateway page.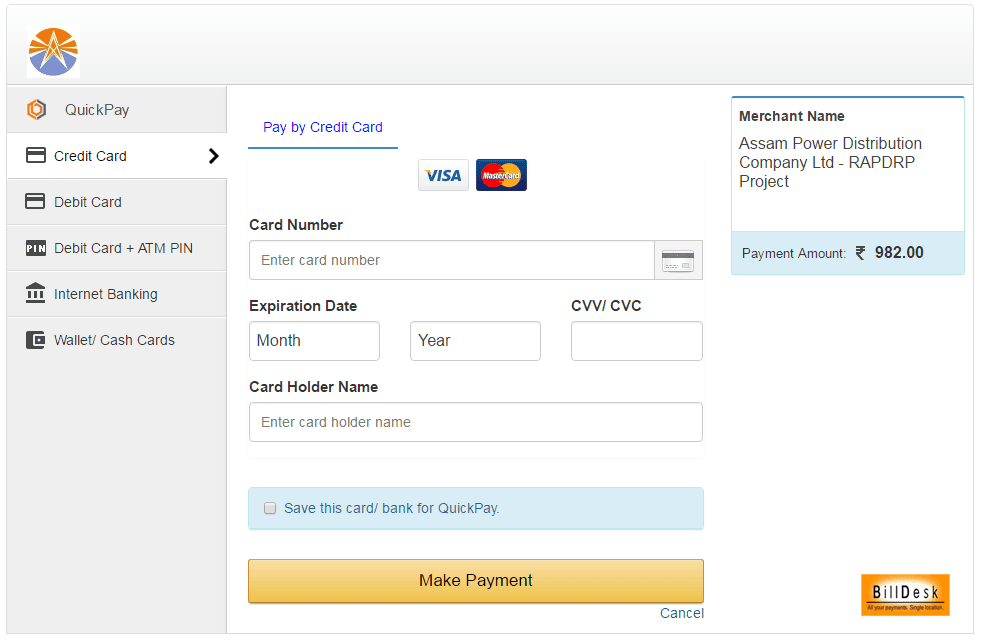 Payment mode selection
There are many payment methods available in the Billdesk gateway including commonly used methods like Debit/Credit cards and Internet banking. You can even use online wallets like Airtel Money or Vodafone m-Pesa for making the payment.
After selecting the payment mode, click Make Payment.
You will be redirected to the payment page of the payment mode you selected earlier. Complete the transaction carefully there. After successful completion, you can see a success message on the screen. If you want any future references, you can save them to your computer/mobile device. You will get bill payment confirmation in your e-mail address and mobile number if the payment is successful.