Planning to cancel your Axis Bank credit card? You may already have searched in Google and found several results. You may have noticed that all of those websites are telling you to send an e-mail request or call Axis toll-free numbers. The fact is, those may have worked in the past, but now, any of those toll-free numbers or e-mail ids does not even exist.
Axis credit cards have changed all of their customer care details. The customer care e-mail ids are unknown. As of now, only premium customer care numbers are available. If you call their customer care phone numbers, you will be charged a premium rate and you have to wait for several minutes to get your thing done. There are no toll-free numbers available now for the cancellation of credit cards.  If you want to cancel your card without spending anything, you should use an alternate way.
Here's an easy way to close your Axis Bank credit card online free of cost without sending e-mails or calling the customer care number.
Cancel Axis Bank Credit Card in an Easy Way
There are multiple types of Axis bank credit cards available.
Axis Bank Neo Credit Card
Axis Bank Flipkart Credit Card
Axis Bank Freecharge Credit Card
Axis Bank Buzz Credit Card
Axis Bank Ace Credit Card
These are the most popular ones. No matter which type of Axis bank credit card you are using, you can cancel your Axis credit card using the following way.
Closing Axis Bank Credit Card Through Customer Care Chat
Follow the below link to visit the Axis Bank Credit Card customer care page on their official website.
Go to Axis Credit Card Customer Care
On this page, click on the chat button (refer to the above screenshot)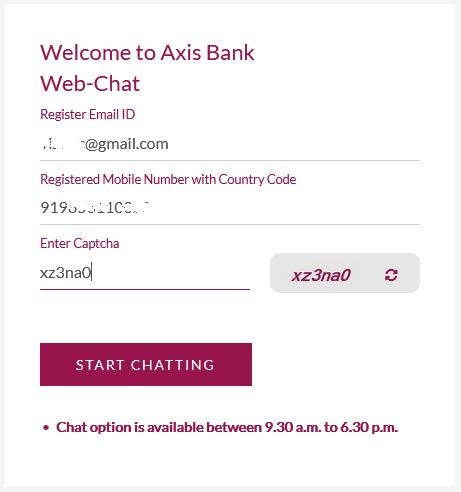 Next, you will be asked for your e-mail and mobile number. Fill up all the details including the captcha image. When typing your mobile number, prefix your country code also.
After filling up all the details, click the Start Chatting button.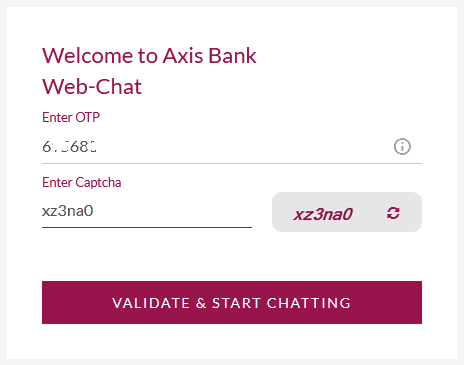 You will receive a One-Time Password (OTP) on your mobile number and in your e-mail. Type the OTP and the captcha text on the next page and click Validate & Start Chatting.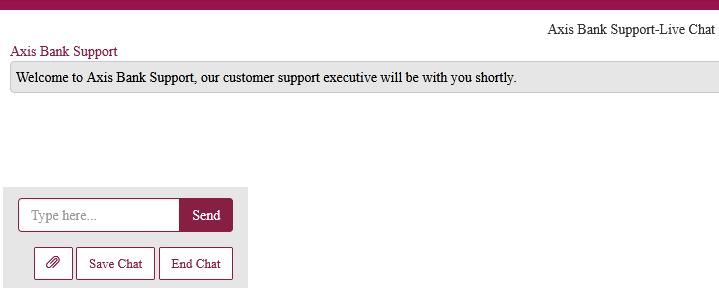 It will redirect you to a chat window. Type your cancellation request on that chat window and click the Send button. An executive (real person) will attend to your query immediately and you will get a resolution within seconds.
Things to Remember Before Submitting the Credit Card Cancellation Request
You have to wait for several days to get your request processed. You cannot do any transactions using the card in the meantime.
You should clear all dues on the credit card before requesting to close your card
If there are any reward points, you should redeem them within 45 days, otherwise, they will also be canceled.