This is a detailed guide to do CIDCO Water Bill Payment Online – Pay City and Industrial Development Corporation of Maharashtra water bill and view,print and download duplicate receipt.
CIDCO – City and Industrial Development Corporation of Maharashtra is a city planning agency which was formed on 17.03.1970 by the Government of Maharashtra and is the richest government authority in India.
CIDCO Water Bill Payment Online Without Registration
https://cidco.maharashtra.gov.in/citizenportal is the url for CIDCO online bill payment. You can pay water bill of CIDCO online using this website without registering. For making payment, you need your consumer number, mobile number and e-mail address.
Follow below link to visit CIDCO citizen portal.
Visit online water bill payment page of CIDCO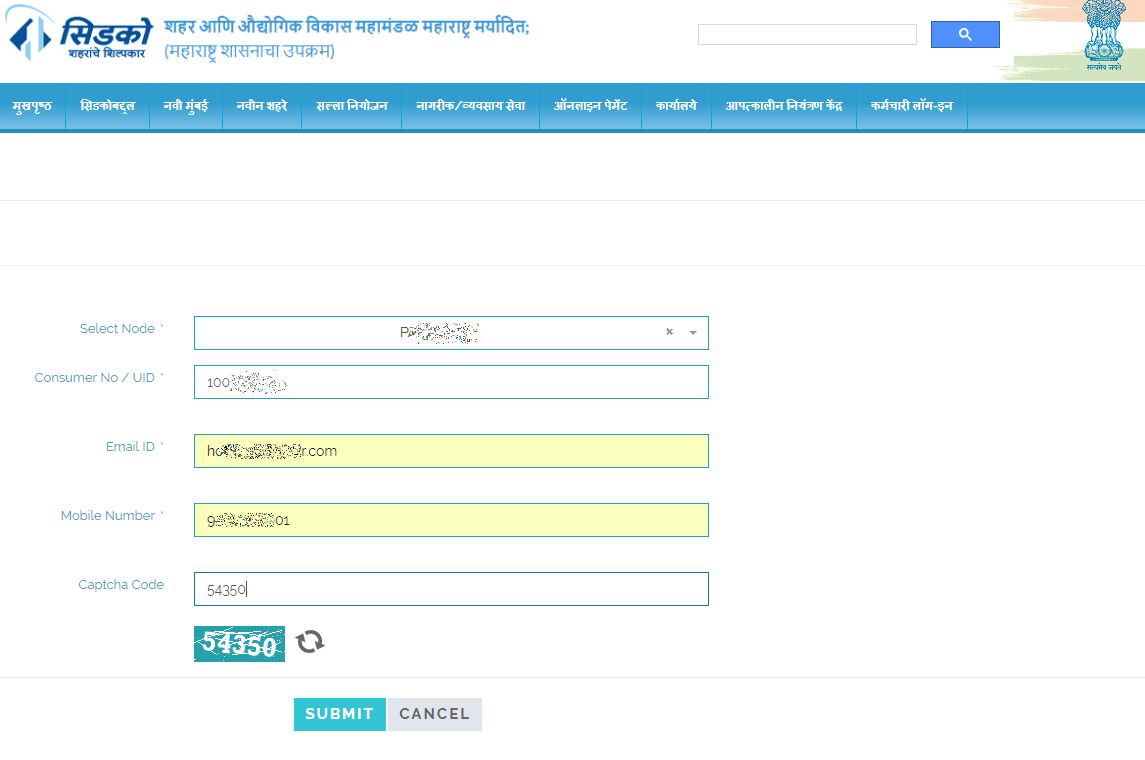 For paying CIDCO water bill,
Select your area

Fill up your consumer number

Your e-mail id

Mobile number

Captcha code displayed below.
After filling up the details click  Submit
You can now see your details including your name,address,outstanding bill amount etc. There are two methods to pay CIDCO water bill online, they are,
CIDCO Water Bill Online Payment Using RTGS/NEFT/IMPS.

CIDCO Online Water Bill Payment Using Credit card/Debit Card/Net Banking.
Online Bill Payment Using  RTGS/NEFT/IMPS
By using this method you have to manually transfer the bill amount to bank account of CIDCO using internet banking or deposit money offline to CIDCO bank account. You have to do the transfer  or deposit manually. In other words, this is not fully automated way to pay CIDCO bills online.
For CIDCO bank details, click Pay (RTGS/NEFT/IMPS) button.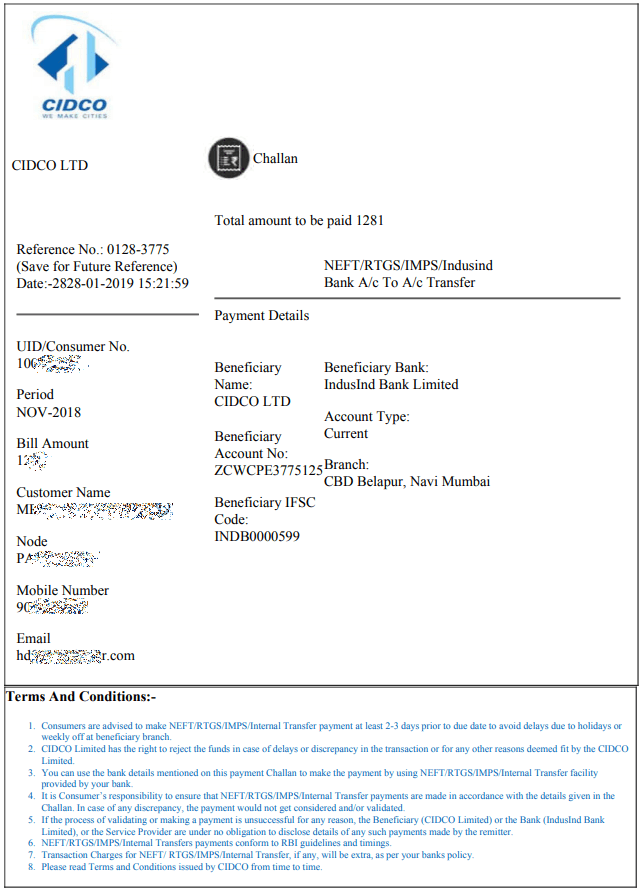 CIDCO Bill Payment Using Credit card/Debit Card/Net Banking
For using this method, click Pay Credit/Debit Card/Net Banking button.
You will be redirected to PayUbiz payment gateway, from there you can select your desired mode of payment.
Select payment mode you wish to use for  making payment,fill up all required details and click Pay Now.
After this, you will be redirected to bank/credit card/debit card payment page and you can finalize the payment from there.
Viewing and Downloading CIDCO Water Bill Duplicate Receipts
For viewing and downloading previous receipts, click Issue Duplicate Receipts menu on the left sidebar.
This is the list of your previous CIDCO bill payments. For viewing,downloading and printing the duplicate receipt, click Download button on the right end.
Above screenshot is your CIDCO duplicate receipt in printable format. You can download it in PDF format to your computer from here, in addition, you can also take printout from here itself.