If you are a consumer of  JVVNL – Jaipur Vidyut Vitran Nigam Limited, you can view, check, download, and print your  JVVNL duplicate bill copy online without logging in to your account. The only thing you need is your JVVNL K Number. The process is really simple, the only problem is, that you can view & download only your latest bill using this method.
How to check and view the latest Jaipur electricity bill using K Number?
You don't need to create an account or log in to your account to view and download your latest JVVNL electricity bill duplicate copy. To view your latest bill, you need to provide your K No on the bill view page of Jaipur Vidyut Vitran Nigam Limited's official Bijli Mitra portal – https://www.bijlimitra.com. The Bijli Mitra website is the web self-service portal of JVVNL. Apart from viewing and downloading your bill, you can do many other things using this website.
What is JVVNL K Number in the electricity bill?
The K number in the JVVNL bill is a 12-digit number. It is a unique identification number assigned by the JVVNL to its customers.
Follow the below link to go to the self-service page of the Bijli Mitra portal to view and download your latest electricity bill.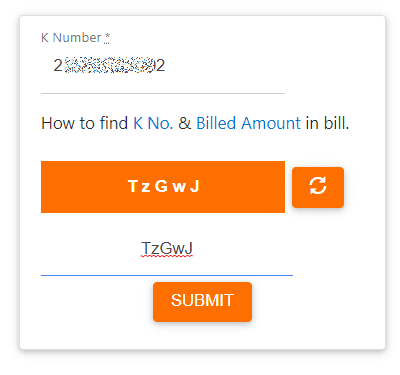 Type your JVVNL K Number and the random text shown below, then click the Submit button to proceed to the next step.
On the next page, click the Download Bill button. A new tab on your browser will open with your latest bill.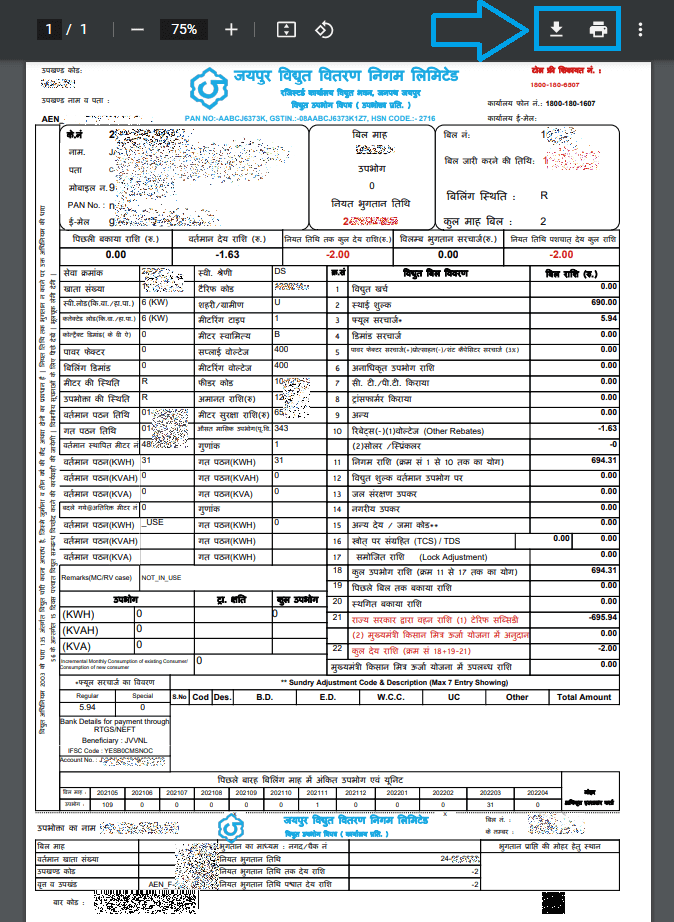 Now you can see a detailed view of your latest Jaipur electricity bill. You can print and download your bill from here.
JVVNL Bill PDF – How to download your Jaipur bijli bill PDF by K No
You can download your latest Jaipur light bill duplicate copy to your computer or mobile device from the bill view page. For this, click on the download button ( Down arrow button – refer to the above screenshot). It will download the bill sown on the bill view window to your computer/mobile device as a PDF document. You can view the downloaded bill at any time by double-clicking on the PDF file.
Printing Jaipur Electricity Latest Bill
 You can print the bill on A4 size paper directly from the bill view page without downloading it. For this, you should have a printer attached to your computer.  For making a hard copy, click on the Print button (Refer to the above screenshot).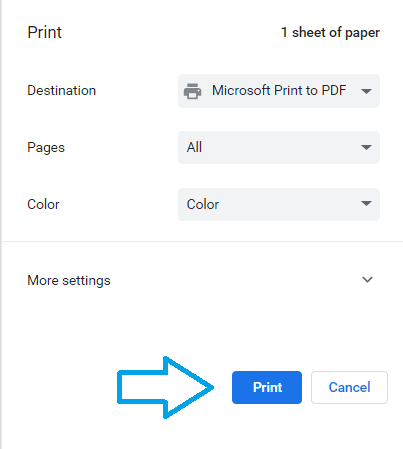 A new window will open with some options to print your bill. Select your printer name from the destination drop-down and click the Print button to make a hard copy of your electricity bill.
How do I pay my JVVNL bill online?
If you are planning to use the Bijli Mitra portal to pay your bill, please read a detailed guide using the below link.
How to Pay Jaipur Electricity Bill Online Without Logging In
How do I download old JVVNL bills and view bill payment history?
For viewing your previous/old bills, you have to sign up for an account on the JVVNL Bijli Mitra portal first. You can use this link to register an account. If you already have an account, you can log in to your account on the Bijli Mitra Portal. using your username and password. After logging in, you can view your bill payment history and previous/old JVVNL bills from your account dashboard.