This is a step-by-step guide for PSPCL online bill payment. PSPCL bill View, download, and pay PSPCL Punjab electricity bill using Instapay/quick pay facility without login through official PSPCL website – www.pspcl.in
Punjab State Power Corporation Limited – PSPCL is owned by the Government of Punjab. It was incorporated on 16.04.2010 and engaged in generating and distributing electricity throughout the state of Punjab.
PSPCL Bill View – View, Print, and Download Punjab Electricity Bill
There is a bill view facility available on the PSPCL bill payment page. You can view your present electricity bill through the PSPCL bill view page of Punjab State Power Corporation's official website. For viewing the PSPCL electricity bill, you should know your PSPCL account number.
Follow the below link to visit the PSPCL bill view page of Punjab State Power Corporation's official website.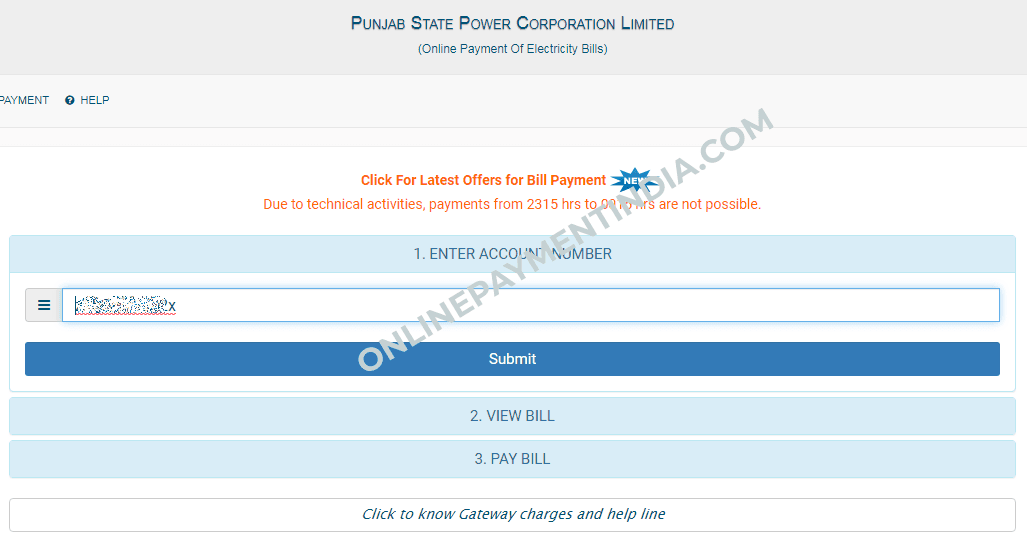 For viewing the PSPCL electricity bill, fill up your account number, and click Submit.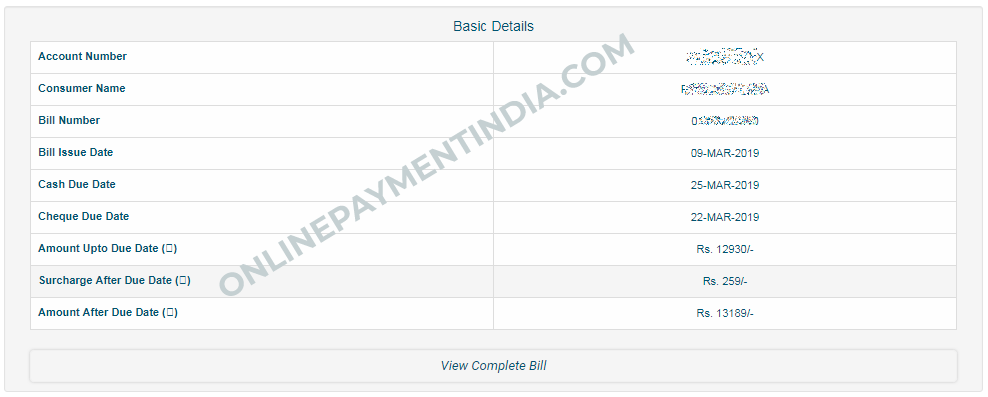 After clicking the submit button, the basic details of your PSPCL bill will be displayed. The content of basic details will be,
PSPCL Account number
Consumer Name
Bill Number
Issue Date
Cash/Cheque Due Dates
Payable Amount
For viewing the complete bill in printable format, click View Complete Bill.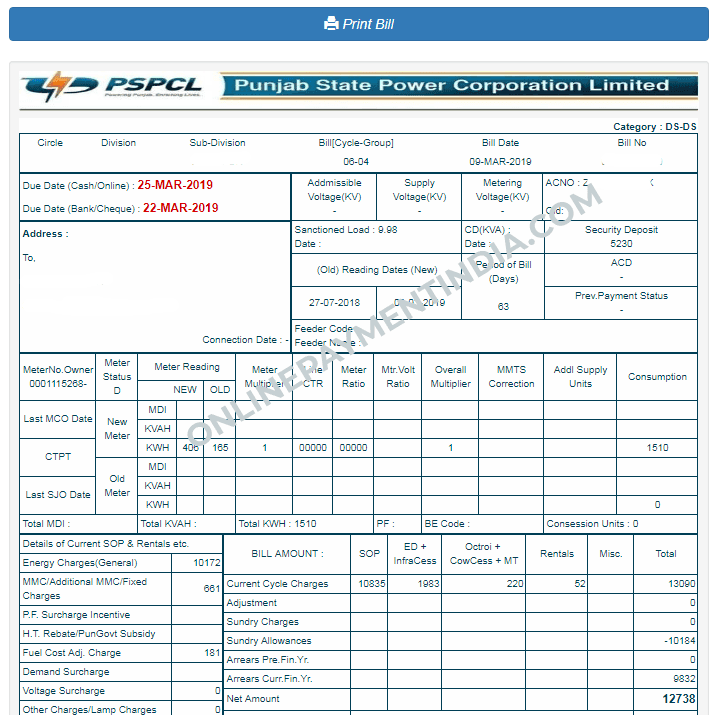 A new window will be popped up with your complete bill.
PSPCL Bill Download in PDF format
For downloading and printing the PSPCL bill, click Print Bill.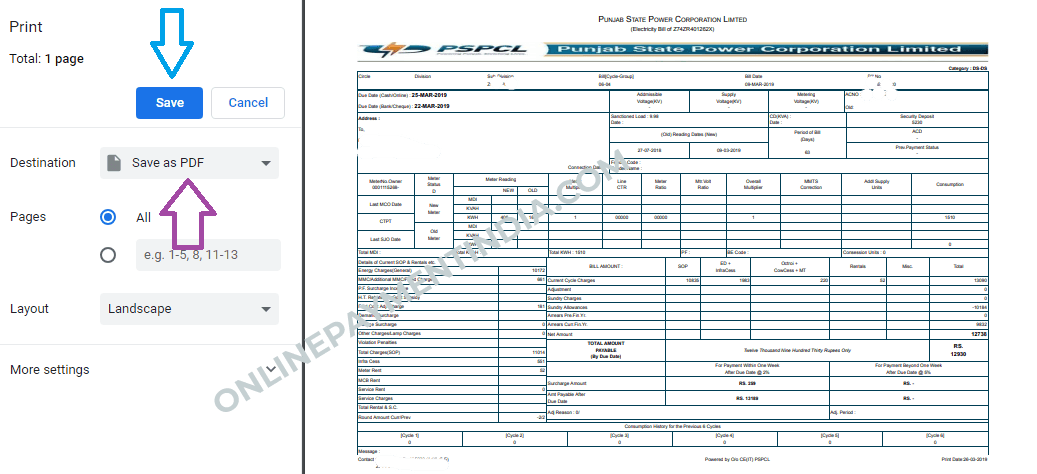 Some options will be displayed. For printing the PSPCL electricity bill, select your printer as the destination from the left and click Print.
To download, select Save as PDF as destination and click Save.  You will be prompted for the destination of the file to be downloaded, select a location from your hard disk drive, and click Save.  Your PSPCL electricity bill will be downloaded to the location you have selected in PDF format.
PSPCL Online Bill Payment – Insta Bill Payment / Quick Payment
For making PSPCL online bill payment, click Pay Bill.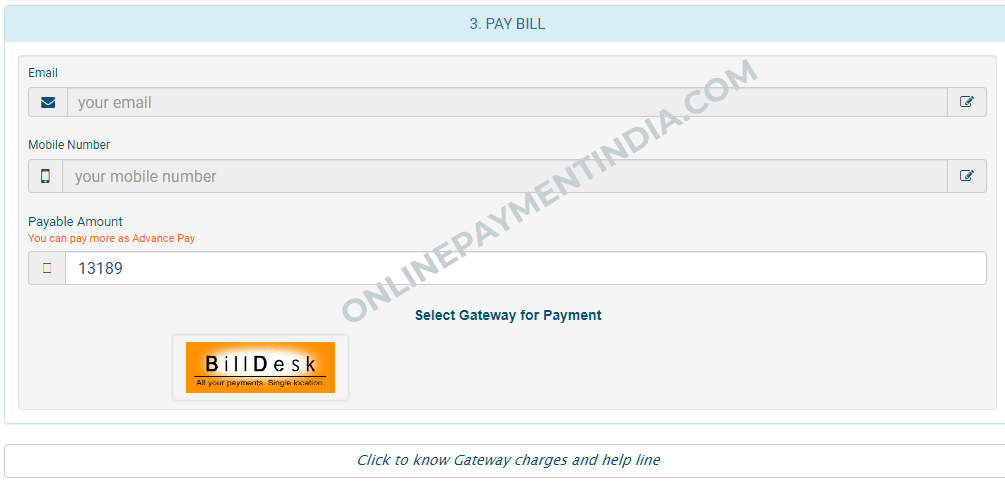 If you have already registered your e-mail and mobile number with PSPCL, you can see it on the next window along with your payable amount. To continue with the PSPCL electricity bill payment, you have to select a payment gateway. Currently, only one gateway named "Billdesk" is listed. There will be some additional charges of different gateways for PSPCL online bill payment. You can view the information about transaction charges by clicking Click to know gateway charges and helpline.
To continue with PSPCL bill payment, click on the gateway you wish to use.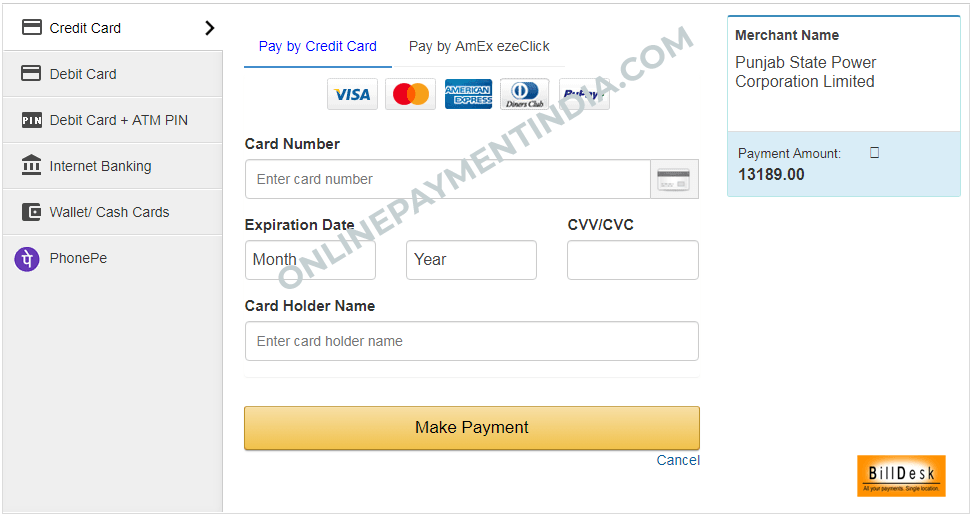 You will be redirected to the payment page of the payment gateway. You can use credit/debit cards, internet banking, online wallets, etc for making PSPCL electricity bill online payment and finalize the transaction here.